A Garden Gets a Second Chance at the Spotlight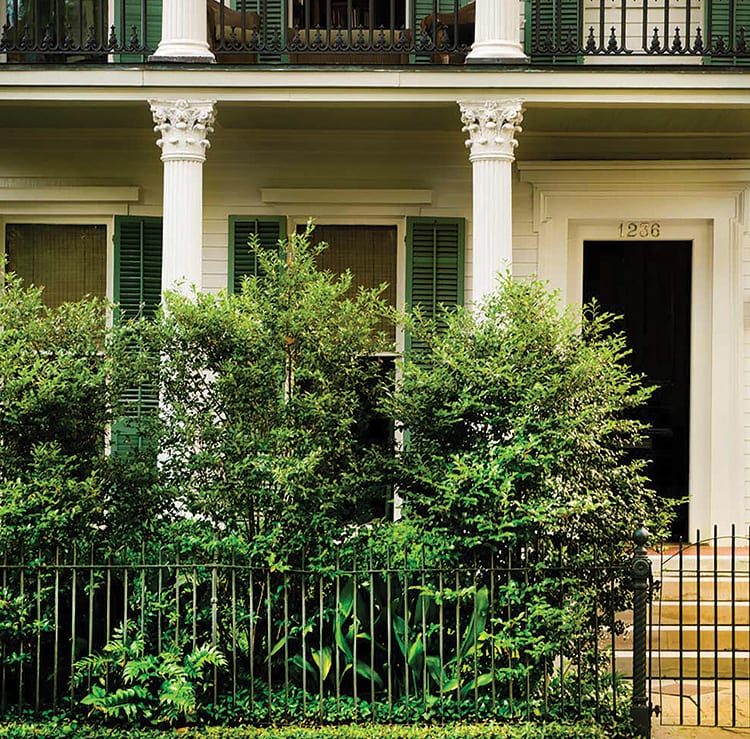 The charming Garden District of New Orleans, Louisiana is located near the core of the celebrated city known for its lovely architecture and lively spirit. The area is filled with stately nineteenth-century homes, including the historic 1848 modified Greek Revival belonging to a friend and client of landscape architect Ben Page. Their shared passion for outdoor social spaces made Page, principal with Nashville, Tennessee–based PAGE | DUKE Landscape Architects, a perfect fit for the job.
Page's aim for the landscape design was to mimic the floor plan of his client's home, which flows from one drawing room to the next. "There is always some level of intimacy that applies to them," he says. "The goal was to chamber each distinctive outdoor space with hedges and plants. You know what they say about New Orleans; plant something at 2:00 [in the afternoon] and at 4:00 it's fully grown."
Encapsulating the urban setting with intimate spaces suitable for outdoor entertaining was ideal for the homeowner, an expert chef and consummate host. During the design phase, however, the project hit a major roadblock when Hurricane Katrina destroyed most of the existing landscape features. Among them: a magnificent, 300-year-old oak tree slated to be the anchor of the new plan.
fit for entertaining
Landscape architect Ben Page used practical principles to set up this enchanted landscape for entertaining. Follow his lead to create the perfect outdoor space for your own garden party.
Use dense shrubs. Lend a sense of separation to alfresco rooms and herb and vegetable gardens to contribute to special-occasion menus.
Designate areas to create an organic flow. Each one should play a different role for entertaining.
Arrange seating to complement the setting. Here, antique pieces echo the history of the city and invite guests.
Plant a cutting garden. Include annuals and perennials so you'll have fresh blooms for floral arrangements at the ready.
Invite visitors to meander. This garden encourages guests to wander at their own pace and experience key features and focal points like the custom fountain.
Cater to the senses. Strong visuals, fragrant vines, and the sound of water create It's a very exotic city for the total garden-party package.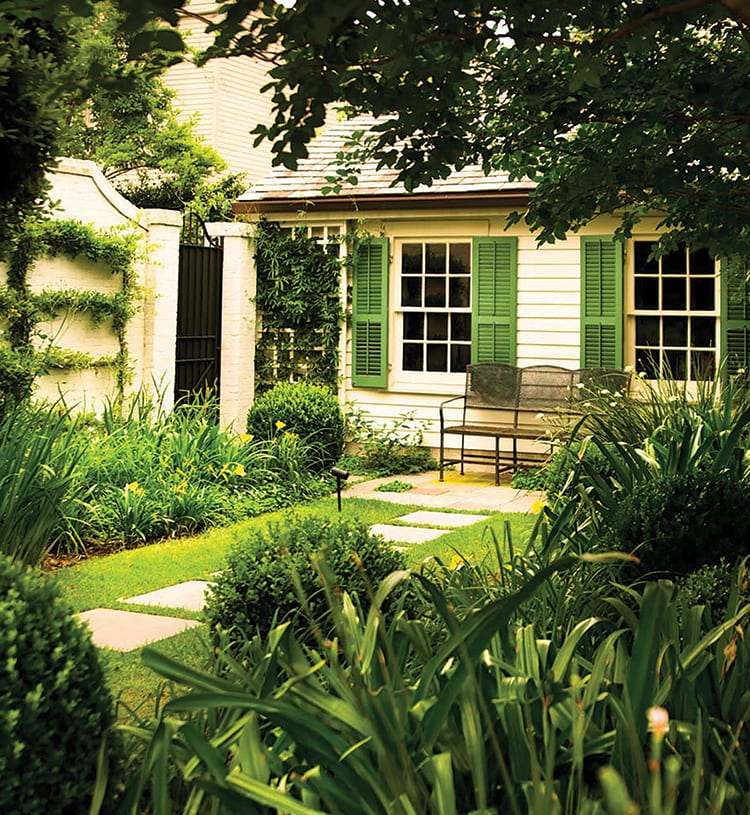 The destruction was devastating. "In the aftermath, it was almost impossible to find any humor to begin the rebuilding process," says Page. "Lots of creative enticements (including bottles of scotch and bourbon) had to become part of the enticements to get skilled workers to come back to town." Sourcing materials, like the featured Pennsylvania bluestone, would also prove to be a challenge as they were in high demand post hurricane.
When cleanup was completed, it turned out the absence of the massive oak tree made way for a more fluid social space. The new half-acre garden—with boxwoods, ferns, palmetto trees, and podocarpus—features a series of interconnected outdoor rooms. It begins with an "entry hall" that establishes a sense of arrival and separation from the busy streetscape. A "living room" area large enough for a tent to accommodate up to ninety seated guests for a dinner party progresses into an intimate secret garden with a mosaic fountain. There's also a spacious terrace for casual entertaining with an iron arbor that provides sheltered dining for up to ten people. Lastly, a small herb and vegetable garden supports the passionate chef of the house.
From lemon trees that produce the perfect vodka tonic garnish to the fragrant jasmine vines around the arbor, plant life thrives in this unique locale. "It's a very exotic city for a landscape architect, given the subtropical climate and the urban environment," says Page.
During his client's legendary celebrations, the social nature of the outdoor space typically draws people to the covered arbor. "It's the most amazing place to spend the evening adjacent to the secret garden, and the fountain provides an introduction to the sound of water. More than one person fell in at her parties," he says of the pebble-mosaic fountain inspired by one he spotted in Nice, France. "It's like a rite of passage."
Beneath the obvious beauty and charm, this is a garden of resilience, says Page, who admires his client's passion and persistence for the project. "A lot of people would have been overwhelmed and given up after Katrina, but she was pretty resolute," he says. "She wanted to carry it forward to a more social garden; kudos to her for being resilient."