TOP: Old San Juan's contrasting colors along the Paseo del Morro (seawall boulevard). BELOW: With nearly 300 beaches, life's a beach on the Island of Enchantment. RIGHT: Plantains are a staple of Puerto Rican cuisine, especially mofongo. Strolling the colorful streets and plazas of Old San Juan never gets old. Cool off with a piragua—a tropical, shaved ice treat.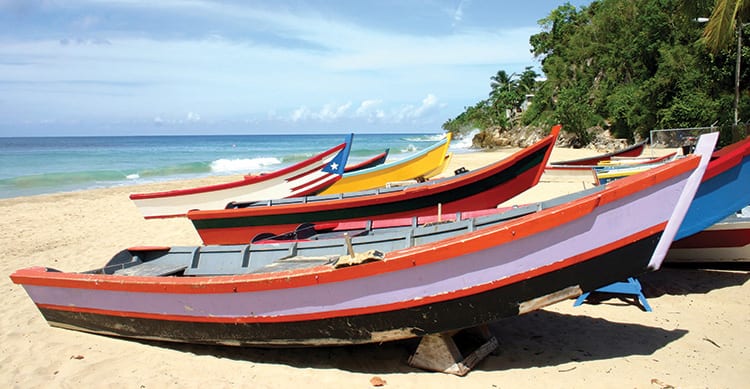 The rhythms of salsa music blend with the aromas of slow-roasted pork and the flavors of a piña colada when beachside in Puerto Rico. Whether you are a foodie, musician, beach lover, or an adventurer, Puerto Rico has treats in store for you. Nicknamed the Island of Enchantment (La Isla del Encanto), Puerto Rico will entertain your taste buds with traditional flavors like mofongo (smashed plantain and your choice of protein) or delectable tembleque (coconut pudding); however, Puerto Rico is also a feast for your eyes with contrasts from cobblestone streets and castles to modern art– and mural-lined barrios. All lights are green for travel post-Hurricane Maria. Let these adventures convince you to add a bit more enchantment to your life.
OLD AND NEW SAN JUAN
Whether you fly or cruise to Puerto Rico, the capital city of San Juan is a great place to start and end. Although you will want to rent a car to explore the other areas of the island, most prefer to explore Old San Juan on foot and use Uber or taxis to and from accommodations in Condado or Miramar. Highlights of San Juan include a visit to the largest Spanish fort in the world, El Morro Castle, a mojito-making class at the Bacardi Rum factory, and exploring the fabulous street art scene in Santurce. For a taste of Puerto Rican nightlife, head for drinks, dinner, and dancing the night away at La Placita.
SURF AND SUN
Considered the Hawaii of the Caribbean, Puerto Rico is an ideal place to surf. Any time of the year, you can find rentals, instructors, and gentle waves in the northwest town of Isabela at Jobos Beach. With a protected cove, Jobos is a tranquil beach for surfing, paddle-boarding, and swimming; plus, there are many cafés and bars to refuel with tasty tostones rellenos de camarones (shrimp-filled plantains), arroz con gandules (rice and pigeon peas), and the rum libation of your choice. Stick around for a postcard-worthy sunset.
If you already know how to surf and want the big waves, you must visit the west coast in the winter months. By far, the most notable surfing spot is Rincón. For the best beach views and whale-watching (January through March), head up to the Punta Higuera lighthouse.
If you are more interested in snorkeling, diving, or working on your tan, your best bet is to visit Culebra, a smaller island off Puerto Rico's east coast. To get there, you can jump on one of the daily ferries or book a dive trip with a tour operator in Ceiba. Its Flamenco Beach is sandy perfection, great for sunbathing, taking Instagram photos, and snorkeling. In fact, Flamenco Beach has made the top beaches in the world list for several years in a row.
ALL-NATURAL WATERPARK
Puerto Rico welcomes you with not only its warm Caribbean waters, but also its pristine mountain rivers and waterfalls. A short drive from San Juan, El Yunque National Forest is a nature lover's treat. You can view La Coca waterfall from the road, but others like La Mina require a short hike. As parking in the forest is limited, it is best to arrive early. Another refreshing adventure that is worthy of a daytrip is Gozalandia (Pleasureland). Located outside San Sebastian, Gozalandia has multiple waterfalls, various swimming pools, and rope swings for kids or those who are young at heart. Onsite, there is a restaurant and bar; however, you are permitted to bring your own coolers and picnic supplies to make a day of it.
Puerto Rico certainly lives up to its nickname. With rich flavors, rhythms, and plenty of rum, it's difficult not to be enchanted by the island. La Isla del Encanto awaits you.