A Hearty Vegetarian and Vegan Menu
RECIPES AND PHOTOGRAPHS BY KARISTA BENNETT
I've always loved my vegetables. Even as a kid, I'd opt for a large salad with a delicious dressing or a big plate of grilled or roasted vegetables. I never thought of myself as vegetarian or vegan—I just love all things grown in the garden. So, when plant-based recipes gained popularity, I felt right at home. Even if you favor meat dishes, I think these vegetarian and vegan-based recipes will make you feel right at home too. They are chock-full of flavor, fresh ingredients, and hearty textures—anything but rabbit food.
CUCUMBER AND RED ONION SALAD WITH FRESH MINT
Fresh, tangy, sweet, and spicy, this cucumber and red onion salad makes a great side dish or starter.
Serves 4
3 tablespoons rice wine vinegar
2 tablespoons sugar
¼ cup extra-virgin olive oil
½ cup thinly sliced or shaved red onion
2 medium cucumbers
¼ cup chopped fresh mint
Salt and pepper to taste
Whisk together the rice wine vinegar, sugar, and olive oil to create a vinaigrette. Add the sliced red onion to the vinaigrette and let it sit for about 15 minutes.
Slice cucumbers into ⅛-inch rounds using a knife or a mandolin. Toss the cucumbers with the fresh mint. Then toss the cucumbers with the red onions and vinaigrette. Season to taste with salt and pepper. Serve immediately.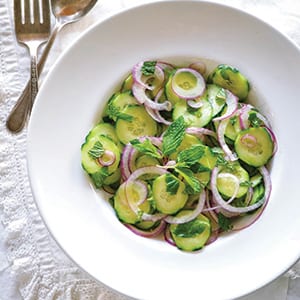 THE CREAMIEST VEGAN MAC AND CHEESE
I've made several vegan versions of mac and cheese, but this one has to be my favorite. It's prepared with soaked cashews, almond milk, spices, and nutritional yeast. The sauce is so creamy and tasty, it will curb your cravings for the traditional version. Although elbow macaroni pasta is traditional, I like to serve this over different shapes of pasta such as cavatappi, cavatelli, orecchiette, fusilli, or penne.
Serves 4
1½ cups cashews, soaked in water for 2 to 3 hours or overnight
½ cup water
½ cup almond milk
1 clove garlic
½ teaspoon onion powder
1 teaspoon turmeric
½ teaspoon curry powder
½ teaspoon smoked paprika
¼ cup nutritional yeast
1 tablespoon lemon juice
Salt to taste
10 to 12 ounces dried macaroni or desired pasta, cooked according to package directions
1 tablespoon chopped fresh parsley, for garnish
In a blender, add the soaked cashews, water, almond milk, garlic, onion powder, turmeric, curry powder, smoked paprika, nutritional yeast, and lemon juice. Blend until all the ingredients are smooth, creamy, and pureed. Add additional water or almond milk to adjust desired cheese sauce consistency. Season to taste with salt.
While the pasta is hot and after it's been drained, add the sauce to the pasta and stir to combine. Ladle into serving bowls and garnish with chopped fresh parsley. Serve warm.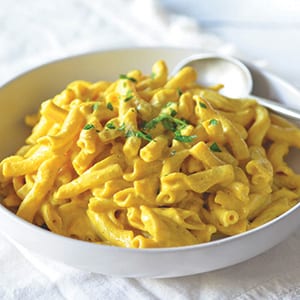 STUFFED EGGPLANT WITH SPICED YOGURT SAUCE
This vegetarian recipe is loaded with so much flavor and a spiced yogurt sauce for a creamy finish. For a vegan version, substitute the whole-milk yogurt with a plain, nondairy yogurt.
Serves 4
2 eggplants, halved lengthwise
3 tablespoons coconut oil, divided
1 red onion, diced
3 cloves garlic, minced
1 teaspoon grated fresh ginger
2 tablespoons chopped fresh parsley, divided
1 (15-ounce) can chickpeas, drained
2 teaspoons curry
½ teaspoon ground cumin
¼ teaspoon ground cardamom
1 cup cooked rice, quinoa, or couscous
Salt and pepper to taste
¼ cup toasted pine nuts, for garnish
¼ cup fresh chopped mint
Spiced Yogurt Sauce
8 ounces yogurt (whole milk, plain Greek, or nondairy)
½ teaspoon cardamom
¼ teaspoon ground ginger
Preheat the oven to 425 degrees F.
Using a small knife, cut out the eggplant flesh, leaving a ½-inch border around the sides. I usually chop the eggplant flesh and discard the flesh that has a lot of seeds. Transfer the chopped eggplant to a bowl.
Brush the inside of the eggplants with 1 tablespoon warm coconut oil and place them in a baking dish.
Place the baking dish in the oven and bake the eggplant until soft, about 10 to 12 minutes.
While the eggplant is baking, heat a large skillet over medium heat and add the remaining 2 tablespoons coconut oil. When the oil is hot but not smoking, add the diced onions and chopped eggplant and cook until wilted. Then stir in garlic, ginger, and 1 tablespoon fresh parsley and cook 1 minute longer.
Stir in the chickpeas, ground curry, ground cumin, and ground cardamom and cook the mixture on low until the eggplant and onions are soft and slightly caramelized. Fold in the cooked rice until well combined. Season to taste with salt and pepper.
Fill the eggplant halves with the filling, and then place the baking dish back in the oven for another 8 to 10 minutes. Remove the baking dish from the oven and let the eggplant cool slightly.
While the eggplant is in the oven, whisk together the yogurt, cardamom, and ginger.
To serve, drizzle the eggplant with yogurt sauce and top with toasted pine nuts and remaining 1 tablespoon fresh chopped parsley.