A Fresh Take on Traditional Charm in the Hamptons
WRITTEN BY VICTORIA HITTNER
PHOTOGRAPHY BY RAQUEL LANGWORTHY PHOTOGRAPHY
Few summer properties are so celebrated or storied as those in the Hamptons. So when Susana Simonpietri was contacted by the new owners of a summer home in East Hampton Village, New York, she understood their desire to modernize the home without sacrificing its original character or existing charm.
Simonpietri, creative director and owner of Brooklyn-based Chango & Co., took cues from the surrounding landscape to begin creating the coastal yet classic feel her clients requested. The Chango & Co. team prides itself on providing a full range of design services, from interior design to full architecture and advisement for major construction projects. With this particular home, however, the exterior details needed little reworking.
"It's rare to find a property with such an established landscape, so it was hard not to be inspired," says Simonpietri. "This translated into the plan to leave the windows open with simple and light window treatments that would allow the outdoors to be enjoyed from just about anywhere, and act similarly to a great piece of art."
To showcase the home's impressive natural light, the creative director painted all the interior walls and trim Decorator's White by Benjamin Moore. The crisp color can be found throughout the home, creating clean and inviting spaces. White may seem like a risky choice for a family with young children, but Simonpietri noted that the color can be quite practical in high-traffic areas. White fabric, like that of the slipcovers covering much of the furniture in the home, can be washed and cleaned easily. "A common theme for all of our summer homes is practicality," explains Simonpietri. "I believe the whole idea behind the space is to relax as much as possible without having to worry about things getting worn or dirty."
This emphasis on functionality can be seen in the jute and sisal rugs the Chango & Co. team paired with the existing wood floors in almost every room. The textures and neutral tones of the rugs add depth while allowing the white furniture and details to pop. Wood-framed mirrors and braided-rope fixtures provide further textural interest in the bedrooms. Grass-cloth wallpaper adds dimension in the dining room.
In the living room, the base rug is layered below an eye-catching Persian rug, lending an intentionally more formal look to the space. "The client and I had discussed the idea of something that felt like a really great handkerchief or bandana," notes Simonpietri, "and that's where the color scheme came from. We then carried this theme out through the pillows, art, and accessories."
The same coastal blues and earth tones of the living room are echoed in the nearby kitchen—a space made stunning by its details. Simonpietri lightened the area by replacing the prior ceiling details and busy backsplash with white planking. Cage lights and nickel cabinet hardware add a touch of nautical whimsy.
French doors lead to an outdoor living space that capitalizes on both the practical beauty of Simonpietri's design and the natural beauty of the Hamptons. The divided patio affords the homeowners a covered space to relax and entertain, as well as an uncovered area to play and dine. The existing fireplace offered a natural focal point around which to arrange an indoor-outdoor rug and minimally upholstered seating. Stunning wooden beams adorned with more cage lights carry a trace of the ship-inspired interior elements to the patio and invite guests to linger past daylight.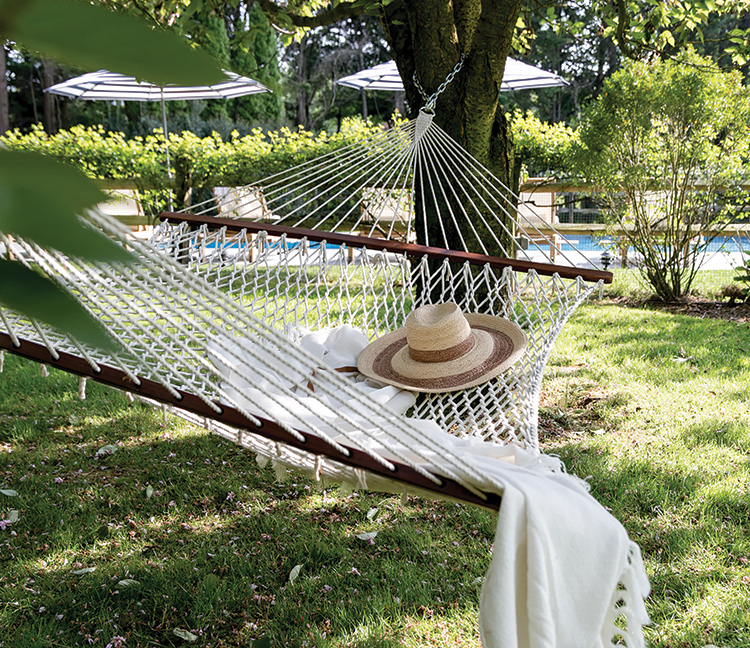 Relaxed outdoor furniture complements the cultivated beauty of the landscape.
Clean lines and coastal blues can be found both indoors and out, conjuring luxury out of simplicity. Creating a welcoming alfresco dining space was a priority for Simonpietri. "It makes us very happy to know the client has enjoyed many meals in this space," she said.
A lushly landscaped yard opens to an in-ground pool, complete with lounge chairs and striped umbrellas. Against the idyllic backdrop of the white and wood-shake exterior of the house, shaded hammocks beckon readers and nappers alike.
Both the outdoor and indoor living spaces offer ideal environments to relax and entertain; the design details were crafted with the homeowners' comfort and the property's natural charm in mind, and it shows. "The home had beautiful bones already, so we chose to embrace this," says Simonpietri. "There were a few small, outdated elements that we replaced, but [we] ultimately chose to let many of the home's natural characteristics shine through."
Designed in Full
As a "full-service" studio, Chango & Co. offers its clients a suite of design and architecture packages. From interior design to landscaping and exterior finishes, the Brooklyn-based team can be involved in all aspects of a project.
Hiring a studio that offers this comprehensive approach ensures the process—and resulting design—best fit your vision and needs. Instead of managing multiple moving parts and contracts, you work with a single creative director who can coordinate schedules and produce a cohesive design—indoors and out. Whether you're looking to redesign a property or build your dream home from the ground up, working with a dynamic design team can streamline the process.
The Chango & Co. team notes that their "design and collaboration process works especially well for people who resonate with our work and know what they like." If you have a distinct vision for your property but limited time to devote to the project, hiring a full-service studio may be just the ticket.